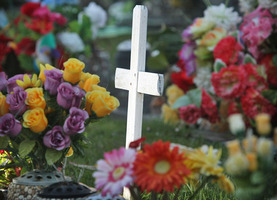 Some families are bypassing funeral ceremonies amid financial pressures or to honour their loved one's last request.
Tauranga's Jones and Company Funeral Services co-director Chris Andrews has been in the industry for 13 years. He has noticed a gradual increase over the past five years in people choosing to forgo funeral services.
Some families were choosing to do nothing, some were opting to have a private cremation, and others chose to have a small memorial service in the family home after the cremation.
The reason behind the decision was often financial or in keeping with the wishes of the deceased, Mr Andrews said.
"The funeral service is more for the living. They are the ones who miss out in the end. I guess the difficulty for family is following the request from their loved ones."
Cremation seemed to be the preferred option of those who chose a low-key send-off for their loved one, Mr Andrews said.
Legacy Funerals director Mike Savage said about 2 per cent of families chose not to have a funeral ceremony.
"There's not a lot but I guess in days to come it will increase. If you go back 10 years or so it just didn't happen."
Many families were now choosing not to use a funeral home at all, Mr Savage said.
The difficulty often came with trying to match up the wish of the deceased with what the family wanted, so it was important to sit down and discuss the options, he said.
The benefit of a service was that friends and extended family were able to show their support and help with the healing process, he said.
Todd Gower, of Todd Gower Funeral Services, said he had also noticed families increasingly opting to have a small memorial service at the family home after cremation.
Mr Gower said he encouraged people to hold some kind of service to help with the grieving process. I think it's really important.
"It gives other people the opportunity to say farewell."
Elliotts Funeral Services manager Neil Gedge said he had come across a few people who had chosen not to have any service but agreed some were now choosing a memorial service after the cremation.
Family counsellor Majorie Douglas said the decision was often based on the family culture but mourning together was an important part of the grieving process regardless.
"From the point of view of a counsellor, it is very important for the grieving process. It brings people together and helps them to get over it faster."
For more articles from this region, go to Bay of Plenty Times