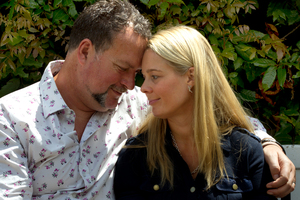 Martin and Jane Weekes will tonight release three lanterns from Cheltenham Beach in Devonport in memory of their children Lillie, Willsher and Jackson.
"We're going to release a pink one, a blue one and a purple one," Mr Weekes said.
Today marks a year since the Doha mall fire which killed their 2-year-old triplets and 16 other people.
"People have been so kind to us - all over the world, but particularly New Zealand - and we know they will be (today). But you kind of put a wall up around yourself so you don't have to feel some of the pain and (today) is a day that will be really difficult to ignore the pain because people will want to be supportive," Mr Weekes said.
He said that support brought back memories of standing outside the mall watching people running around, not knowing what was going on.
"It was just a disaster," he said.
As well as Lillie, Willsher and Jackson, 10 other children and six adults were killed in the fire that swept through the Villaggio Mall.
The blaze has been blamed on an electrical fault but a court verdict into who was responsible is expected next month.
A memorial will be held overnight at Aspire Park next to the mall, where there will be a moment's silence before 19 balloons will be released.
Mr Weekes said a few hundred people were expected at the event.
"It will be interesting to see what happens because it is illegal to gather in groups in Qatar," he said.
A year after the tragedy, Mr Weekes is still angry about the official process that has dragged on.
The families of the victims had been promised a report into the fire, which they and the court were yet to receive.
"The report was commissioned by the Crown Prince, therefore it is his report. We've been promised that report from countless levels of authority, including the Attorney-General in Qatar, however, the only person that can release it is the Crown Prince," Mr Weekes said.
- APNZ