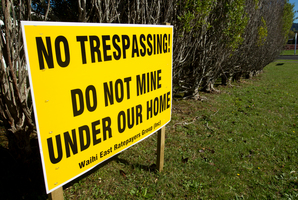 The company behind a proposed underground gold mine beneath homes in Waihi will appeal against parts of the resource consent.
Newmont Waihi Gold was granted permission for the Correnso underground mine in Waihi East, but not for a wider Golden Link project.
General Manager Glen Grindlay said the company had appealed to the Environment Court over parts of the decision for land use consent for Golden Link.
"We are pleased that the commissioners largely accepted the evidence we put forward and that they recognised the positive benefits of the mining proposal for Waihi and the wider region,'' he said.
"There are, however, some aspects of the decision we would like to revisit because they are uncertain or give rise to uncertainty with respect to mining under the consent.
"We are appealing the area which has been granted, and have also appealed some of the conditions relating to the construction and operation of the proposed Correnso mine''.
The Correnso underground mine would be the first in New Zealand directly below a residential area.
Independent commissioners for Hauraki District Council released their decision on the mine earlier this month.
- APNZ