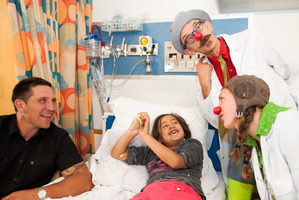 About 20 clowns have been accepted into New Zealand's first academic programme to become fully qualified medical comedians.
A medical clown is an entertainer who has been trained to specifically work in a medical environment.
The clowns entertain sick children and their families, to help lift their spirits, reduce stress and fear, and encourage laughter.
Christchurch professor Dr Thomas Petschner launched the world's first medical clowning programme last year at Berlin University. More than 80 students will graduate from the International Institute of Medical Clowning this year. Petschner said a level-one course would launch in Auckland and Wellington in September at a cost of $14,000 for each person. Students were required to study a medical field, like psychology or oncology, he said.
Clown Doctors New Zealand has members who visit sick children in Auckland, Christchurch and Wellington, though those people don't have the formal qualification.
Clown Doctors' annual awareness campaign, Smile Days, runs from May 31 to June 2.