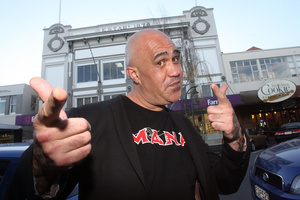 New Mana candidate for Ikaroa-Rawhiti, Te Hamua Nikora, says he is a different breed of politician who can engage young Maori with political issues and be a true man of the people.
"I'm different in that I've never been a politician but I've been politically thinking my whole life. I'm different in that I dress the same, I walk the same and I talk the same as the people on the coalface," he said on a recent visit to Masterton.
"I'm different in that the marae is not just somewhere where I've been, it's where I thrive, that's where I live. Being Maori is not just something I enjoy to do, it is what I am."
Mr Nikora said his uncle, the late Labour MP Parekura Horomia, had been a major influence on him entering the political arena.
"I grew up in Gisborne. When I was growing up there wasn't too many people in politics that really reflected the youth of Ngati Porou until Parekura Horomia came in and then we saw a face of our own that understood us and his is the legacy I'd like to carry on."
Mr Nikora said his uncle was very much a people's person and this was an attribute he believed was also a personal strength for him.
"In recent years I've been travelling around the country speaking in schools doing motivational and inspirational speaking with the kids so being on the road and actually pressing the flesh with the people is something he did really well and something I love to do," Mr Nikora said.
Giving young people a political voice is a goal Mr Nikora is very passionate about.
"Teenagers who are near voting age haven't been encouraged a lot to [get involved] so hopefully by them seeing me in Parliament, most of them have grown up watching me on television, they'll be able to find themselves in Parliament."
Mr Nikora said the fact that 40 per cent of the electorate were unemployed and another 40 per cent lived in houses they did not own, were two issues he would like to address. He was aware more than 4000 children went to school hungry each day in the electorate and that was unacceptable.
He believed his TV profile would be an advantage but he stressed he had a lot more to offer.
"We're not going to rely on that. I'm a very passionate man for our people."
For more articles from this region, go to Wairarapa Times-Age