Nine of the country's most inspirational people honoured at World Class NZ awards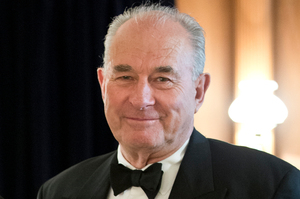 A sense of humour is the key to ending civil war, negotiating military coups and being a Nobel Peace Prize nominee, says Sir Don McKinnon, who took top honours at the 2013 World Class New Zealand Awards last night.
The former Deputy Prime Minister, Commonwealth Secretary-General and Foreign Affairs and Trade Minister was among nine of the country's most inspirational figures recognised at a gala awards dinner at The Langham Auckland.
Sir Don's work included brokering an accord that ended a decade of civil war in Papua New Guinea, negotiating difficult political situations with Robert Mugabe's controversial rule in Zimbabwe and George Speight's attempted coup in Fiji.
"Everything I have done seems to have posed a new challenge, and as soon as you have finished that particular challenge there seems to be another one on the horizon," he said.
"Whether you are negotiating a constitution in a conflict or helping deal with a difficult president or prime minister ... try and keep your sense of humour."
The annual awards were delivered by Kea on behalf of New Zealand Trade and Enterprise.
Other winners were technology guru Bill Buckley, business magnates Rob Fyfe and Judith Hanratty, celebrity chef Annabel Langbein, and scientists Dr Sean Simpson, Dr Doug Cleverly and Geraldine McBride.
Television cook, food writer and publisher Langbein was touted for her contribution to creativity, and Fyfe was heralded for his business nous while head of Air New Zealand.
"There is such a wealth of talent here," said Langbein.
"The fact that the award is a poppy shows it's about success and celebrating and going forward as a nation, rather than people feeling embarrassed or that they don't want to stand out."
Australian Andrew Holden was named ANZ Friend of New Zealand for his role in editing the Press that informed Christchurch residents in the aftermath of the devastating earthquakes.
Prime Minister John Key presented each winner with a Tall Poppy statuette designed by Weta Workshop co-founder Sir Richard Taylor.
Top Nine
2013 World Class New Zealand Awards
• Air New Zealand Supreme Award - Sir Don McKinnon.
• ANZ Friend of New Zealand - Andrew Holden.
• Ernst & Young Life Sciences - Dr Doug Cleverly.
• Wellington City Council Creative - Annabel Langbein.
• BDO Auckland Investment and Business - Judith Hanratty.
• AUT University Information and Communications - Geraldine McBride.
• Douglas Pharmaceuticals Manufacturing, Design and Innovation - Bill Buckley.
• Gen-i New Thinking - Rob Fyfe.
• The Royal Society of New Zealand Science, Technology and Academia - Dr Sean Simpson.
View each winner at keanenewzealand.com