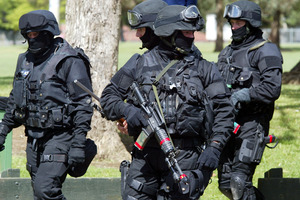 Armed police have arrested a teenager who allegedly planned to threaten a Lower Hutt resident with an air rifle.
The armed offenders squad was called to a property in Wainuiomata about 3.30pm today.
Police had been told a 16-year-old boy planned to take what was believed to be a .22 calibre rifle and threaten a local Wainuiomata resident.
Officers cordoned off a property and arrested a 16-year-old boy without incident.
Armed offenders squad members found one weapon, believed to be an air rifle, at the property.
Police lifted the cordon and were interviewing the boy this evening.
- APNZ