Auckland Airport taking advantage of satellite-based navigation.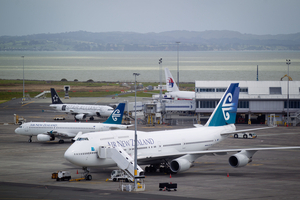 Recently it appears that planes coming into and leaving Auckland Airport have been taking different routes. Is this happening, and if so, why? Bill Davidson, Mt Eden.
It is indeed. Trials began in November to use what are known as smart approaches which the airport says could reduce distances flown, fuel consumption, carbon emissions and noise for people living close to the airport. The new flight paths are designed to make better use of the Manukau Harbour area and light industrial areas near the airport.
The trial is an initiative of Auckland Airport, Air New Zealand and Airways New Zealand. It is being tested around the world with the aim of reducing fuel consumption and emissions.
An online information page says the new aircraft approaches take advantage of highly accurate satellite-based navigation to create curved flight paths that bring the final approach to the runway closer to the airport.
These approaches create a more continuous descent, with the engines' power settings at or close to idle which reduces the noise level.
However, the pilot of any aircraft has the final say. A (now retired) senior pilot of my acquaintance tells me that aircraft must take off and land into the wind so the initial flight direction depends on the wind direction.
After takeoff, air traffic controllers direct aircraft away from the city to minimise danger and disruption to citizens below. But this can only happen if the wind conditions are acceptable to the pilot.
The rules governing altitude of aircraft above land are set by the Civil Aviation Authority and are very strict.
All aircraft must stay above 1000ft (305m) over built-up areas and 150m over rural areas, unless they have a valid reason for being lower for which they require permission. (Partial source, Central Leader)
What is that strange dome-shaped structure in the Waitakere Ranges that can be seen from Scenic Drive when looking towards Waiatarua? An alien spacecraft that missed its designated landing spot, perhaps? Anna Robinson, Titirangi.
The metal dome contains a secondary surveillance radar antenna, one of six in the country to give air traffic control the position and height of any aircraft within a range of 463km.
The dome is on a peak called Ruaotewhenua, which at 440m is one of the highest points in the Waitakere Ranges.
It also houses VHF radio equipment, enabling air traffic controllers to speak to pilots.
The site in the Waitakeres is part of a series of networks of radio navigation aids, radar and communication systems throughout the country owned and maintained by Airways New Zealand. These networks enable communications between air traffic controllers in control towers, the radar centre in Christchurch or the Oceanic Control Centre in Auckland, and pilots. Airways NZ controls just over one million aircraft movements into and around New Zealand airspace every year.