Pokie venue closures would take funds from charities, Racing Board tells council.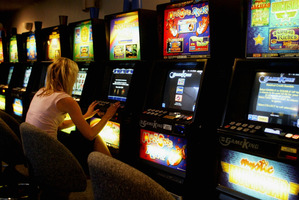 SkyCity's rivals say its pokie machines will earn more if Auckland Council heeds calls for a regional sinking lid policy on gaming venues.
In the first of the council's hearings on non-casino venue policy, the Racing Board argued against banning new pokie machines in the central city area around the casino.
For the board, New Zealand Gambling Law Guide author Jarrod True said a sinking lid would not reduce problem gambling.
If a venue closed without being allowed to relocate, he said, addicts would simply head to the next bar.
"There's always going to be somewhere to get your fix," he said. "There's going to be a casino for the next 35 years."
A sinking lid policy would force gambling profits away from clubs and bars of gaming societies which had to return profits to the community, and amounted to $90 million in 2011.
Sixty-eight per cent of community organisations thought they would be unlikely to find another source of funding.
SkyCity gives 2.5 per cent of its profit to community groups and charitable purposes.
Mr True said the board supported an approach similar to Wellington City's where area limits were imposed according to social deprivation.
The board's figures for the year ending June 2011 showed the area of the former Auckland City Council, which has a sinking lid but allows relocation, had 4.7 problem gamblers per 1000 people. The former Manukau City Council's area had a sinking lid but 5.2 problem gamblers per 1000 people.
A council officers' report said a clear majority of local boards supported a consistent and region-wide approach to a sinking lid as a tool to reduce gambling harm.
A poll of 500 Aucklanders showed 74.8 per cent thought there were too many pokies and 76.9 per cent supported a sinking lid, said Tony Milne, chairman of the No More Pokies coalition of 20 groups.