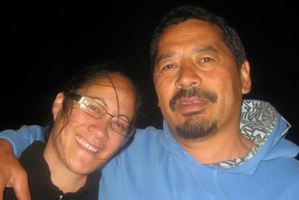 The brother of a Far North man who, along with his wife, allegedly died at the hands of his nephew says the double homicide has been a nightmare for the close-knit family.
Ivan Maheno, 44, and his wife Carmen Maheno, 38, died in an apparent shooting at their home in Pamapuria, near Kaitaia, yesterday morning.
Mr Maheno's nephew Edwin Harvey Maheno, 38, appeared in Kaitaia District Court today charged with two counts of murder.
Dressed in a police-issue boiler suit, Maheno entered no plea during his brief appearance.
Ivan Maheno was found dead in his house and Carmen, who apparently tried to flee, was found with critical injuries outside.
She died in hospital overnight.
Ivan and Carmen married two years ago and had two children together, neither of whom were home during the shooting.
Family gathered as Ivan's body was removed from his Fairburn Rd house today.
His brother Gordon Maheno told 3 News it had been "a nightmare" for the family.
"We've had something like this happen just within the family, between my brother and my nephew and my sister-in-law. We all know each other, we're all very close here."
Detective Senior Sergeant Kevin Burke said a scene examination was carried out today and post-mortem examinations would confirm the causes of death.
He said a firearm had been found but there was no indication yet as to what sparked the shooting.
Maheno turned himself in at the Kaitaia police station yesterday morning and was charged with one count of murder later that day.
A second murder charge was laid after Mrs Maheno's death late last night.
In court today, Maheno's lawyer Ken Bailey entered no plea on behalf of his client, nor did he make an application for name suppression or bail.
A justice of the peace remanded Maheno in custody until May 30 for an assessment of his mental health and fitness to plead.
Former Oturu School principal Fiona Lovatt Davis, who worked with Mrs Maheno when she was a teacher aide there, described her as "a vibrant young woman".
"She had so much love and affection for the children that was genuine and heartfelt," she told 3 News.
She said Mrs Maheno used to be the girlfriend of former Pamapuria School deputy principal James Parker, who is due to be sentenced on a raft of sex abuse charges relating to boys who slept over at his Awanui farm.
Mrs Maheno had raised concerns about Parker with Ms Davis, who went to police.
"It was courageous to speak up about something that wasn't quite right at the time," Ms Davis said.
- additional reporting NZ Herald/Northland Age