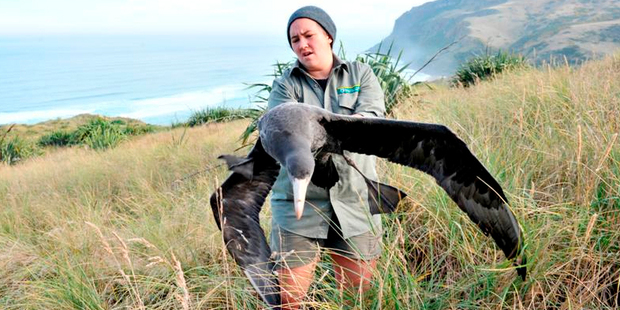 A bird in the bush is worth two in the hand.
Dunedin Department of Conservation staff helped a wayward windfarer back on its flight path yesterday.
The northern giant petrel was discovered by a member of the public on Ocean View Beach at 4pm on Wednesday and was moved overnight by Doc staff to nearby sand dunes for safety.
"It's pretty rare to get a live petrel on the Otago coastline," DoC biodiversity assets programme manager David Agnew said yesterday.
"We found one at Harwood and one at Brighton in the last couple of years, but they both died. This one was quite vigorous. He might have drifted in and got tumbled. They like a bit of wind to fly around in."
The 4.5kg bird had a head about the size of a cricket ball and feet the shape of small paper aeroplanes.
It also had a beak that made short work of 400g of red cod.
"We gave him some Dexolyte, an electrolyte energy drink ... so he doesn't get dehydrated and we made sure he didn't have any injuries. He was quite happy after that and seemed fine," Mr Agnew said.
The age and sex of the bird were unknown, although it was believed to be a juvenile.
The northern giant petrel can grow to 5kg and 95cm in length, with a 210cm wingspan.
The birds are aggressive predators and scavengers and breed between August and February in the circumpolar subantarctic.
"They breed on the Auckland Islands, Campbell Island and Stewart Island. They would have been breeding on the mainland before humans," Mr Agnew said.
"They feed a lot on carrion. Fishermen called them 'stink pots' because they'd throw up as a defence mechanism. It's pretty hard to get off your clothing."
The bird was released on a remote part of Otago Peninsula yesterday afternoon.
"There's a lot of tussock on the peninsula that's quite similar to where they breed on the Auckland Islands," biodiversity ranger Mel Young said.
"He'll fly off when the wind conditions are right."
DoC staff would check the bird's progress at lunchtime today.