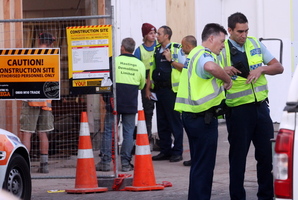 Police had not released the name of the 53-year-old man who died in a workplace accident in Napier on Wednesday as of late yesterday.
A police spokesperson said they were still trying to contact some members of the family.
The man, one of a team of contractors working inside the old Farmer's building, died after being struck on the head by a steel beam.
The accident happened about 3.45pm and the man died at the scene.
The site was closed off immediately after the accident and remained closed yesterday.
The accident is now under investigation by the Ministry of Business, Innovation and Employment.
A spokesperson said officers had visited the site and the intensive investigation now under way could take several months.
"There is nothing more we can say at this stage until it is completed."
For more articles from this region, go to Hawkes Bay Today