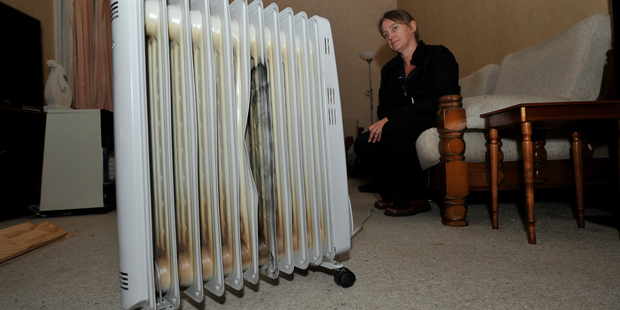 Countdown believes the explosion of an oil heater that showered a bedroom in sparks and hot oil was an isolated incident.
The supermarket will refund the heater's owner and have the faulty appliance tested to establish what caused it to explode in a Gisborne home last week.
But it says there is no evidence to suggest the products should be recalled.
Teresa Taylor has told how her family heard a loud bang shortly after switching on the heater last week.
"The heater had exploded in the middle and hot oil was blown all over the walls," Ms Taylor said.
"My partner rushed into the room and said there were sparks flying from the heater.
"He turned the heater off and managed to get it outside."
Smoke quickly filled the house.
"It was so lucky that we were home. If we'd been out at the time the heater exploded, the house could have gone up," she said.
They bought the Home Collection-brand heater two years ago from Countdown in Gisborne.
A spokeswoman for Countdown said they were organising to collect the heater for testing.
"We take product safety very seriously and we are working with Ms Taylor to get the product back so that we can arrange for independent testing," the spokeswoman said.
"We will have a better understanding of what happened once the results are available but at this stage it is an isolated incident.
"We will be making contact with the supplier regarding the results and we'll also be providing Ms Taylor with a full refund."
Teresa Taylor said the supermarket had told her the fault could result in a national recall of the appliance.
"They have been really good about it," she said.
No one in the family was injured by the incident or adversely affected by the smoke.