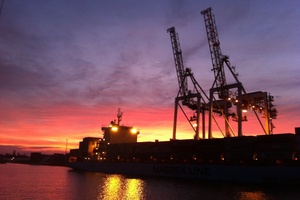 A Filipino crewman working aboard a logging ship at Port of Tauranga suffered serious lacerations this morning after a crane-operated winch wire struck him across his chest and neck.
The man is in intensive care in Tauranga Hospital.
Mount Maunganui St John's operations team manager Gary Bishell said the 42-year-old crewman was working onboard the Nordic Visby about 5.30am operating a winch, when an apparent mechanical fault resulted in the winch wire catching him across his body.
Mr Bishell said it was unclear whether the ship was being loaded or unloaded but the man was conscious and talking was taken to Tauranga Hospital in a serious condition around 6am.
Police attended the incident.
A spokesperson from Tauranga Hospital confirmed the injured crewman was in a serious condition in the hospital's intensive care unit.
Maritime New Zealand spokesman Steve Rendle said an investigator who flew up from Wellington was at the scene. It was too early to make further comment as the inquiry was ongoing.
The United-Kingdom owned Nordic Visby arrived in Tauranga at 2.12am today from Napier and is scheduled to depart for Lanshan, China at 1.30am on May 19.
For more articles from this region, go to Bay of Plenty Times