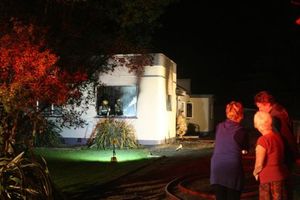 Screams coming from Wairarapa home as fire tore through it turned out to be two dogs trapped in the blaze.
The labradors were rescued by firefighters and given oxygen at the scene of the fire in Masterton on Tuesday.
"They were pretty sick, they probably had been exposed to smoke prior to our arrival for up to 10 minutes," Masterton Fire Service station officer Garry Nielsen said.
Wairarapa SPCA dog compound manager Ross Nixon said the dogs were quite drowsy when SPCA personnel arrived.
"If the fire brigade had not been there to resuscitate them they would have died, so it was really quite traumatic for the dogs," Mr Nixon said.
The dogs were treated for smoke inhalation and were looking fit and healthy yesterday.
It took three fire trucks and 12 firefighters about 20 minutes to get the blaze under control. The owners were out at the time, and the house was badly damaged.
"The front half was severely damaged by fire ... the rest of the house is damaged by heat and smoke damage," Mr Nielsen said.
The house did not have smoke alarms.
Fire safety officers have yet to determine the cause of the fire, but it is not believed to be suspicious.
For more articles from this region, go to Wairarapa Times-Age