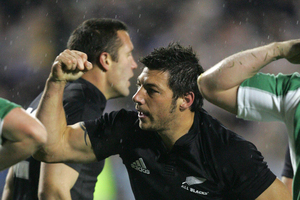 European media reports have suggested former All Black Byron Kelleher could be romantically involved with Princess Charlene of Monaco.
A number of reports in European publications have speculated about the pair's relationship since an article ran in a Spanish newspaper.
In a story published on Saturday, Spanish national daily newspaper ABC reported that the reason the princess was not at the side of her husband, Prince Albert II, at the coronation of new Dutch King Willem-Alexander two weeks ago was because she was in her native South Africa with Kelleher.
Ex-Olympic swimmer Charlene, 35, is in South Africa working with her sports-focused charitable foundation, the Princess Charlene of Monaco Foundation. Dunedin-born Kelleher, 36, is in charge of the foundation's rugby projects.
"Rumours about a relationship between the two have erupted,'' the article said.
Kelleher attended the royal couple's wedding in 2011 and spent time with them on Italy's Amalfi coast last year.
ABC reported that Kelleher, who was described as an "intimate friend'' of Charlene, was at the princess's side at a recent tennis tournament in Monte Carlo.
A number of other European sites were carrying the story, with headlines such as "Charlene of Monaco and rugbyman Byron: An affair in the works?''
There has been no comment from Monaco's royals
Former Highlanders and All Blacks teammate Josh Kronfeld said he hadn't heard anything about the reports but it "wouldn't surprise'' him.
"If anyone can meet women, it's him,'' he said.