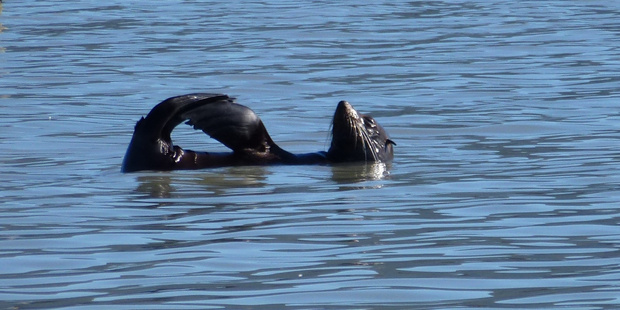 A Wairarapa man got more than he bargained for when he took his two dogs walking at Lake Domain.
Andy Gurney, 83, was about to load his well-exercised dogs back into his vehicle for the short ride home to Woodward St he decided to scan the lake with his binoculars, looking for wildfowl.
But what he saw was not wildlife of the feathered variety, but a fur seal cavorting in the lake.
"I saw this thing in the water and thought that's not a bit of black plastic or anything, then I saw its flippers," said Mr Gurney, a retired building overseer.
He often has a camera with him when walking his dogs but as Murphy's Law would have it, Monday was not one of those days so he drove home and got the camera on the off chance the seal would still be within sight when he returned. And it was.
He was able to snap several frames of the seal before it "disappeared across the bay".
To have got as far as it had the seal, which probably belongs to the seal colony at Ngawi, would have to have entered Lake Onoke and made its way through the narrows into Lake Wairarapa and traversed the entire length of the lake to arrive at the spot photographed by Mr Gurney.
One of the hardest tasks the seal would have faced was negotiating the barrage gates. It would have had to dive under at a time when the gates were lifted.
According to some Lake Ferry residents, a small group of fur seals are quite often seen close to the mouth of Lake Onoke and on the sandspit there but there has been no reported sightings of one at the top end of Lake Wairarapa until now.
For more articles from this region, go to Wairarapa Times-Age