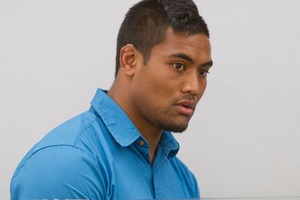 All Black Julian Savea could be considered for diversion after his court appearance in Wellington today.
The 22-year-old appeared at Wellington District Court after being remanded on bail last month on an assault charge relating to a domestic incident with his partner Dawn Rodgers.
Standing quietly during his appearance, wearing a blue shirt and dark trousers, Savea entered no plea.
His lawyer Noel Sainsbury asked for Savea to be remanded at large until next month to attend an anti-violence programme, which might result in diversion being granted.
Mr Sainsbury also strenuously objected to numerous media applications for photos to be taken of his client standing in the dock.
Media did not have a shortage of photos of the well-known athlete, and others facing the same charge would have been dealt with by the registrar rather than by a court hearing in front of a packed public gallery, Mr Sainsbury said.
"All I would like is for Mr Savea to be treated like anyone else.''
However, Judge Peter Hobbs granted the media's photo applications in the interest of open justice.
Savea was remanded until June 12 and left quickly when the hearing finished.
After his first court appearance last month, he offered an emotional apology to his partner.
"Whilst I can't go in to the details because it is now before the courts, I understand that the details will come out in due course,'' he said.
"But I will say that my partner and I did have an argument, I did some things that are wrong and that I shouldn't have done and I apologise for that.''
After a self imposed one-week stand-down Savea was named today to start on the wing for the Hurricanes against the Chiefs at Westpac Stadium on Friday night.
- APNZ