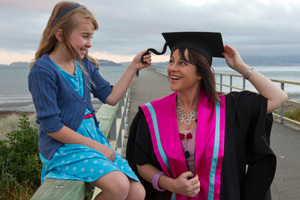 Former TV presenter Sarah Bradley says middle age should be no barrier for women looking to reinvent themselves or returning to study.
In fact, she says it's essential that they embrace change.
After three years of part-time study at Victoria University while holding down a job as host of TVNZ's Good Morning and being a single mother to daughter Melinda, Bradley will today graduate with a master's in international relations with merit.
She said juggling home life, work and getting academically attuned again after a long absence - she attended Waikato University in the mid-1980s - was a difficult balance.
Bradley was in her early 40s when she returned to university but said women of a similar age contemplating studying again should "absolutely go for it".
"You do need to reinvent yourself," she said. "Gone are the days, unfortunately, of the Mark Sainsburys and so forth and working in TV for 30 years ...
you have to be able to do other things.
"I think there is a lot of ageism here but don't feel frightened to have a go."
The 47-year-old's thesis was on French-New Zealand relations in the South Pacific.
She now has an eye on the possibility of working in the diplomatic field in a French-speaking country.