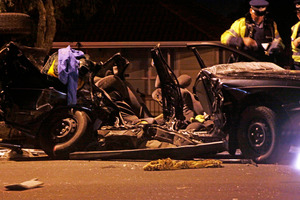 The actions of two teenage passengers who stopped a young driver from fleeing police will be used in a new social media campaign aimed at young people.
Police have congratulated the 16-year-old driver who decided not to flee from police in Auckland last night after his 15-year-old passengers begged him to stop.
The driver was signalled to stop, as the vehicle was suspected to be stolen, and the driver initially sped off but soon slowed to the speed limit and stopped.
When police asked why he had stopped, the two passengers and driver said they didn't want to end up like the four who died on Friday night in Mangere, referring to the fatal crash following a police pursuit.
The passengers said they had yelled at the driver to stop during the pursuit.
Assistant commissioner Dave Cliff said drivers who flee police put themselves and other road users at huge risk.
"We think this message is so powerful that police will be using this real life story as the basis of a new social media campaign aimed at youth,'' he said.
"The driver of the car makes a decision that affects everyone in the car, but the passengers can also do something about it.''
Mr Cliff said the passengers in this case were able to ``man up'' to save their own lives and possibly those of the driver and other innocent road users.
"In the vast majority of these incidents we find there is more than one person in the vehicle,'' he said.
"In fact there are often far too many people in the car and they are often the ones who needlessly lose their lives or who are injured and affected for life.''
The three were taken into custody and will be dealt with through Police Youth Aid Section.
- APNZ