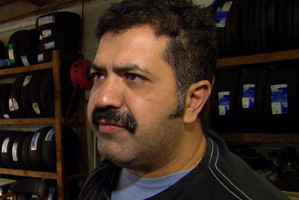 Police have won the right to take a case involving an Iraqi man wanted for alleged people smuggling to the Court of Appeal.
Maythem Radhi is accused of being part of an operation which led to 353 people drowning after their boat sank 12 years ago. Australian authorities want Radhi extradited from New Zealand.
In March last year, a district court judge ruled Radhi was an extraditable person and eligible for surrender to Australia. But that decision was overturned in the High Court in February because Radhi's charges didn't meet the threshold for extradition at the time of his alleged offending. New Zealand Police applied for leave to appeal.
Roger Chambers and Shannon Withers appeared for Radhi today and opposed the application for leave to appeal.
"When it comes to a man's liberty, which is at stake... there must be some finality in terms of justice, rather than dragging it on," Withers said in court.
Radhi has stirred strong emotions here and in Australia. Chambers said a foreign TV crew had frightened the Iraqi.
"It is likely to be a fairly long haul, not helped by our Aussie cousins coming across with a rogue TV team," Chambers told the Herald on Sunday outside court.
"This is not about the alleged facts, this is a legal argument," he added. "What allegedly happened 10 years ago is not even discussed, apart from saying this is the basis on which the applications are made."
Christine Gordon QC and William Fotherby appeared for the New Zealand police. "The respondent is accused in Australia of involvement in alleged offending which cost a large number of human lives," Gordon and Fotherby stated in their submission. "The Australian authorities wish to put him on trial for this offending."
The Auckland High Court heard arguments around some "finely balanced" points of law. Justice Wylie said the extradition aspect seemed to "add an overlay" which was not present in most cases judges dealt with. The court also heard discussions about New Zealand's obligations to extradite people wanted in other countries.
"...The comity of nations is important but we determine the matters in accordance with our law, and no-one else's," Radhi's defence team added.
A number of earlier cases, including that of German internet mogul Kim Dotcom, were mentioned in various contexts. Ultimately, Justice Wylie did not "overturn" his February 11 judgement but said there were some arguable points for the Court of Appeal on questions of law.
Chambers said he expected a long process. "At some point, the Court of Appeal will get hold of me and require submissions... and in some distant future, they'll set a fixture and the matter will be argued." - Herald on Sunday