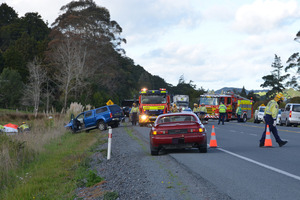 Two people killed in a crash in Northland on Sunday have been named by police as 41-year-old Isaac Peters and 69-year-old Kirihimete Paniora.
Mr Peters, of Papatoetoe in Auckland, and Ms Paniora, of Waimamaku in Northland, were passengers in a car struck on State Highway 1 at Hukerenui, north of Whangarei, about 2pm on Sunday.
The driver and occupants of two other cars involved in or witnesses to the crash have come forward and are now talking with investigators, police said today.
The crash is believed to have happened when a four-wheel drive towing another car heading south appeared to lose control.
Mr Peters and Ms Paniora were passengers in a second four-wheel drive heading north, which took evasive action and lost control before it was struck by a third vehicle.
Mr Peters and Ms Paniora died at the scene.
Police have appealed for any other witnesses to the crash to come forward.
Anyone with information should contact Whangarei Police on 09 430 4500.
- APNZ