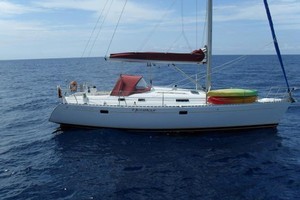 A missing yachtie who vanished in mysterious circumstances is presumed to have fallen overboard and died.
Tauranga's coroner has reserved his findings into the cause of death of charter yacht skipper Richard Rusbatch who went missing at sea in February 2012.
But Dr Wallace Bain said given the evidence presented at an inquest hearing held in Tauranga today there did not seem to be any doubt that 56-year-old Mr Rusbatch had fallen off the boat, and was dead.
The inquest heard that exhaustive searches failed to find any traces of him after Mr Rusbatch's leased 38-foot charter yacht Honfleur was found motoring in circles with its anchor trailing, 11 nautical miles east of Mayor Island at 8.50pm on February 14.
Mr Rusbatch had last been seen in Tauranga, leaving for Paihia in the Bay of Islands on Sunday, February 12.
Kevin Prout was on a vessel that came upon Mr Rusbatch's "ghost ship" before alerting authorities and sparking a two-day search.
"I can't get that yacht out of my mind," he told the Bay of Plenty Times days after discovering the unmanned yacht. "If the skipper had been wearing a lifejacket he would have been somewhere on the surface, but there was no sign of him anywhere. What really got me was the expanse of the sea."
Both the radio and motor were going when he boarded the vessel.
"It was really unnerving. I knew we were dealing with a man overboard situation."
The coroner's decision was reserved.
For more articles from this region, go to Bay of Plenty Times