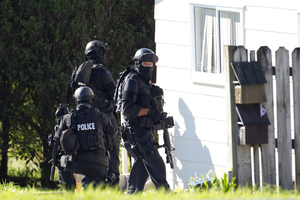 A man who sparked a major Armed Offenders Squad operation on Auckland's North Shore yesterday has been granted interim name suppression so a psychiatric report can be prepared.
The 33-year-old appeared in North Shore District Court this afternoon charged with unlawful possession of a sawn-off shotgun, threatening to do grievous bodily harm, possession of cannabis and possession of equipment capable of being used in the cultivation of cannabis.
Duty lawyer Jan Leaming did not seek bail and applied for interim name suppression on the grounds that the man had two children living in the area, and to give the man an opportunity to prepare a fulsome application for name suppression.
Judge Roy Wade also noted that a forensic nurse had raised concerns about the man's psychological wellbeing, and he ordered a psychological report to be prepared.
On that ground he made an interim order suppressing the man's name until his next appearance on Thursday, when he was expected to apply for bail.
Judge Wade said it was "extremely unlikely'' the man would be granted bail unless it could be proven that he did not pose a threat to the community.
About 50 Armed Offenders Squad officers were called to Albany yesterday morning, resulting in the lockdown of two schools before a home on Albany Highway was surrounded.
"Your house is surrounded by armed police ... Exit the house immediately,'' police were heard saying over a loud speaker.
"Have nothing in your hands and you will not be harmed. You can't hide. We will find you and anybody hiding.''
Police detonated at least five blank explosions above the house and again called for the occupant to leave.
Detective Senior Sergeant Stan Brown said today that police were still in the process of interviewing some people in relation to the incident.
He confirmed the partner of the man at the centre of the siege was arrested at the police cordon yesterday afternoon for obstructing the security cordons.
She was released without further charge.