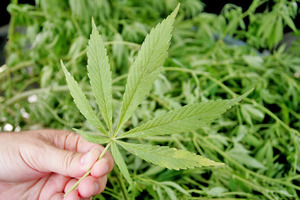 More than 10,000 cannabis plants have been seized by police in the central district for the second year in a row.
Police have labelled their haul a success, with 10,244 plants uncovered in the year to April following 10,134 cannabis plants being seized the year before.
"The total number of plants seized this year is outstanding," Detective Senior Sergeant Keith Borrell said.
"The operation has been a success and the significant amount of public support we have received has been a major contributor to this."
Last year's haul included 5918 plants discovered in aerial searches using Air Force Iroquois helicopters while the remainder were located during the execution of search warrants.
Mr Borrell said it was "a strong blow to illicit drug rings".
There were 80 search warrants executed on drug dealers and cultivators in the central district, he said.
The aerial operation involved Air Force helicopters winching police officer into cannabis crops.
Officers also located two clan labs and recovered firearms, vehicles, cannabis seeds, ecstasy tablets and methamphetamines.
In the last few weeks, police in the central district have made two more significant drug seizures at properties in Waverley and Levin.
An indoor crop with 67 plants and more than 1kg of quality cannabis head was found at the Levin property.
A 41-year-old man was arrested and charged with cultivating and possessing cannabis.
Last month 770 plants drying in a shed and several kilograms of quality cannabis head was found at the Waverley property. Police believe the cannabis was grown at another location and brought to the shed to dry out.
Four men were arrested and charged. A 59-year-old was charged with allowing his premises to be used for drug offending and the other three men, all in their mid-30s, were charged with cultivating cannabis and possession for supply.
- APNZ