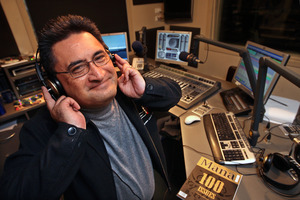 For the second time in three years Rotorua's Kingi Biddle has been named the best public speaker in the country.
He has taken home the New Zealand Toastmasters International Speech Contest trophy after winning the same award in 2011.
Along with the top award he also won the award for Most Entertaining Speech at the New Zealand Toastmasters Awards held in Wellington on Sunday.
He will travel to Cincinnati, Ohio, in the United States in August with the intention of bringing home the World Champion of Public Speaking award at the 2013 Toastmasters International Convention.
Mr Biddle made the top nine when he competed in Las Vegas for the same award in 2011.
"I was told it was quite rare for the top award winner to also win the most entertaining speech.
"It's a pretty good feeling and it's a huge privilege and honour for me.
"My speech this year was called 'What Really Matters' and was about work and family balance and was based on a statistic which said many children notice their daddy is not home for dinner because he is out working."
He said it was a tough competition and all the New Zealand finalists would rank highly at the world champs.
Mr Biddle has risen swiftly up the ranks of Toastmasters after joining in April 2010.
"Wherever I go I take the aroha [love] I have for the amazing city of Rotorua which gives me strength."
This time he wants to do some fundraising so he can bring his family with him.
"I have to be confident, so when I win the award I want my whanau to be there to see it."
Mr Biddle belongs to the Rotorua Lunchtime Toastmasters which meets every Tuesday at RAVE on Hinemaru St.
President Joy Hood said she was proud of his achievements.
"We are a very proud of our entire group and Kingi is a great example to others who want to enter competitions."
For more articles from this region, go to Rotorua Daily Post