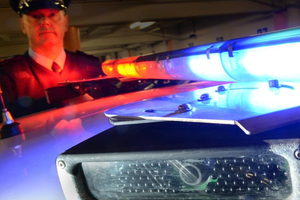 A crime-fighting device capable of detecting dodgy drivers, unsafe vehicles and criminals is being trialled by police on Dunedin streets.
Southern District Police have taken possession of an Automatic Number Plate Recognition (ANPR) unit, which can scan up to 3000 plates in one hour.
"ANPR is a tool that helps police get dangerous drivers, unsafe vehicles and criminals off the road," Southern District acting road policing manager Senior Sergeant Steve Larking said.
The unit, which costs between $40,000 - $50,000, provides police with already available information, but without the need to call a dispatcher to check a number plate.
That system scans number plates and notifies police of "vehicles of interest", including those that are unsafe, used by unsafe drivers, or have been involved in crime.
In a three-month trial in Manukau, police recovered 15 stolen vehicles, took 180 disqualified, forbidden or suspended drivers off the road, and recovered stolen property from various offenders, he said.
"So the benefits are clear."
Southern officers have been trained how to use the new device, and the vehicle was expected to be deployed across the district.
A Police National Headquarters spokesman said the system was vehicle-focused and did not store any form of facial recognition.
The system has been successfully implemented by law and order agencies around the world, with five vehicles in New Zealand currently fitted with the technology.
"This is a valuable tool in fighting crime. Law-abiding motorists have nothing to fear."