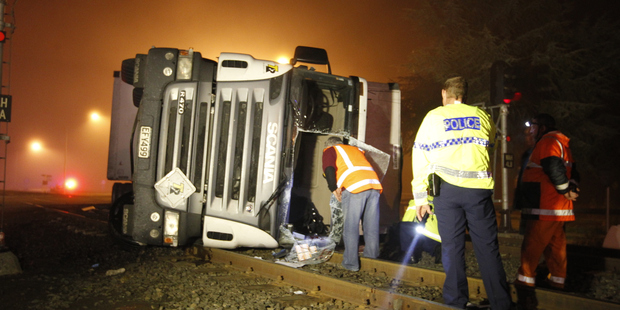 A seriously injured driver lay trapped in his crashed truck across railway lines for more than an hour in Waikato last night.
The truck-and-trailer unit overturned on State Highway 27 at Waharoa near Matamata about 8.30, and was on its roof when emergency services arrived.
Air bags were needed to raise the truck so the driver could be cut free, said Fire Service spokesman Jaron Phillips.
"He was so severely trapped. The truck and trailer went upside down and rolled across the railway tracks."
The driver was in a serious condition, but spoke with his rescuers.
He was freed shortly after 9.30 and taken to Waikato Hospital, said a St John Ambulance spokeswoman.
Late last night, his condition was given as serious but stable.
Police Inspector Peter Raynes said the truck-and-trailer unit had "slipped" as it crossed the lines, but the exact cause of the accident was still being investigated.
No other vehicles were involved.
KiwiRail spokeswoman Jenni Austin said one minor freight line that serviced the Kinleith Mill was affected, but there were no disruptions to any scheduled train services.