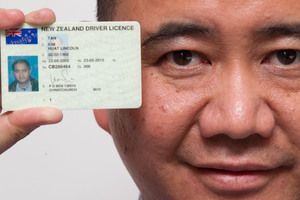 After 15 years in New Zealand, I was asked to change my identity to renew my driver's licence.
I was born Tan Kim Huat, Lincoln and both my Singapore birth certificate and passport identify me as such.
Applying for my New Zealand driver's licence in 1999, I was told by the licensing agent that I was "not entitled" to use Lincoln as my first name.
The licensing agent said then that under the rules, if a foreign identification did not state which was the surname then that last name would be considered the family name.
After a lengthy exchange, she agreed to let me keep Tan as my surname - but I had to use Kim as my first name.
So, for the past 15 years I have become Kim Tan on my driver's licence, with Huat Lincoln as my middle names.
My new identity came to haunt me last week, when the New Zealand Transport Agency said I could not renew my licence as I did not have any mail addressing me as Kim Tan or KHL Tan (in that order) as evidence of address.
A bank statement and a bill that had my name as LKH Tan and Lincoln Tan were rejected.
The agency said in order for it to recognise Lincoln as my first name, I would have to change my name by deed poll with the Department of Internal Affairs. However, changing my legal name in New Zealand to Lincoln Kim Huat Tan would pose a new problem. A name in a different order to my internationally accepted identity in my Singapore passport would also put me in a position where I cannot renew my licence.
Following intervention by the Herald and the Human Rights Commission, the agency relaxed its advice last Friday.
It said I can now keep Kim Huat as a single name on my licence, and I can use a variety of name formats - as evidence of address.
The agency confirmed yesterday this flexibility will from now on be applied to all applicants.
Read more:
Read the full letter from the NZ Transport Agency to Lincoln Tan
Drivers' licences adapt to Chinese