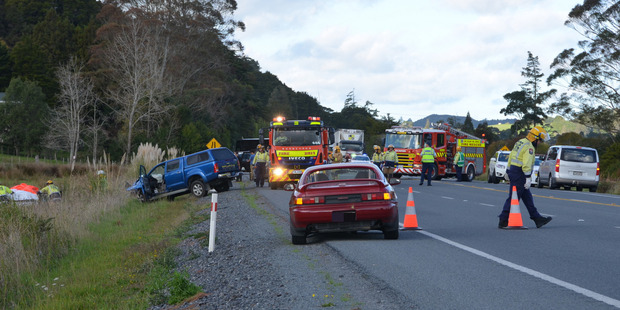 Police investigating a fatal crash in Northland yesterday are looking for the occupants of two vehicles in the area at the time.
Two people were killed in the crash on State Highway 1 at Hukerenui, north of Whangarei, about 2pm.
Northland police acting road policing manager Senior Sergeant John Fagan said a 4WD vehicle towing another car was heading south when it appeared to lose control.
Another car heading north took evasive action to miss the 4WD vehicle, lost control and was hit by a third vehicle.
Two passengers in the car hit by the third vehicle died at the scene.
Mr Fagan said police were looking for a large, green American style vehicle and another vehicle towing a large boat heading southbound on SH1 at the time of the crash.
Police would also like to speak to anyone who saw the crash or a vehicle being towed by another vehicle on SH1 between Kawakawa and Hukerenui.
Mr Fagan said police extended their deepest condolences to the families of those who died.
The crash was a reminder to motorists to take more care, especially when towing.
"The maximum speed you can tow another vehicle without a rigid towing system, for example with a rope or a strop, is 50 km/h."
"Motorists are still taking risks with their lives, the lives of their passengers and other motorists. Until the motoring public see road safety as their responsibility as well then we will continue to have tragic crashes where poor decision making has resulted in unnecessary death or serious injury."
Police are still contacting the next of kin of the deceased.
Anyone with information on yesterday's fatal crash can contact Whangarei police on 09 430 4500.
- APNZ