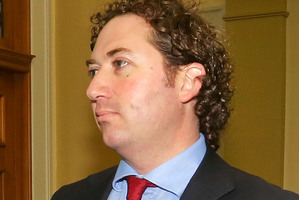 Outgoing National MP Aaron Gilmore has apparently sent threatening text messages to a number of people after he decided to resign from Parliament.
The MP, who will make his valedictory speech tomorrow, is believed to have sent messages to lawyer Andrew Riches and others, telling them to look up the meaning of "utu".
Mr Gilmore announced his intention to retire from Parliament last night after a series of allegations including that he abused a waiter and sent inappropriate emails while on a government contract.
Mr Riches wrote a note to a Hanmer Springs hotel to apologise for Mr Gilmore's behaviour, and claimed that the MP had threatened to use the Prime Minister's office to get a waiter sacked.
Blogger Cameron Slater posted a picture of a text apparently sent by Mr Gilmore, which said: "Utu - you should learn what it means".
Slater has written a series of posts urging Mr Gilmore to resign.
Read more:
It's out with Aaron, on with Budget
Ex-broadcaster next on Nats' list