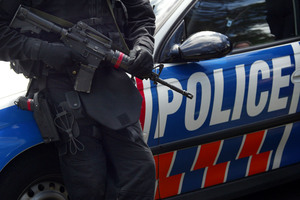 The armed offenders squad has intervened in a dispute between neighbours in Motueka after one of the quarrelling parties shot a neighbour's dog this morning.
Police were called to West Bank Rd shortly after 10.20am today after reports shots had been fired.
The incident was believed to have been sparked by "a bit of tussle" between neighbours, police spokeswoman Barbara Dunn said.
"Somebody's dogs had been worrying somebody else's sheep, and then one of the dogs worrying the sheep has been shot but not killed."
Ms Dunn said a second shot was discharged into the ground intentionally to unload the firearm.
The injured dog was taken to a vet for treatment.
Ms Dunn said there were no other reports of injuries.
She said the people involved were assisting police with inquiries.
- APNZ