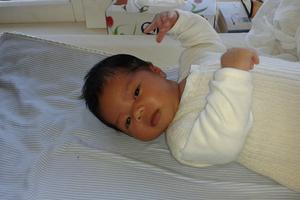 Our "little man alone" Leandro Gayo has caring arms to hold him.
The newborn boy was left in Auckland City Hospital after his mother died from complications during childbirth on April 22, and his father was forced to leave the country to return her body home to the Philippines for burial.
The Herald on Sunday last week reported Norman Gayo's heartbreaking decision to leave behind his 2-week-old son while he took wife Leah's body back to her home city of Cebu, where she was buried on Wednesday. The 32-year-old died after a stroke during labour, believed to have been caused by a rare amniotic fluid embolism.
Speaking from Cebu, Gayo said Leandro had been discharged from hospital into the temporary care of a foster family. "He's put on 800g of weight and is very well."
Gayo met the woman caring for his son before he left. She has three children of her own, as well as an adopted son who is blind.
Gayo is due to return in two weeks. "I want to come home early, I feel sorry for my son that I had to leave him behind."
Meanwhile, Kiwis have donated almost $10,000 to help the family. Members of the Filipino community, the couple's church and their workplaces fundraised to help pay for Leah's funeral and airfares for Gayo and the couple's daughter, Kyla, but as of last week he was still $3,000 short.
Mel Libre, president of the Filipino community group that was helping Gayo, said: "We feel thankful that New Zealand is a very caring society."