But union has concerns about the scheme.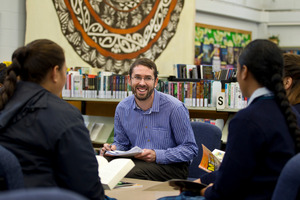 Backers of a controversial scheme to fast-track trainee teachers into classrooms are claiming initial success, with all 16 inaugural graduates passing their first three months as teachers.
The programme by the University of Auckland and Teach First NZ puts partly-trained teachers in Northland and Auckland schools after six weeks of intensive training.
The Herald on Sunday first broke news of the programme in January last year.
For their first two years, the graduate teachers - who must have a degree in their specialist subject - do not take on a full workload, are mentored by fellow teachers and their progress is observed by university staff over 25 visits.
The Post Primary Teachers' Association, the union representing secondary teachers, has criticised the scheme. Its president, Angela Roberts, said this week she still had concerns. "I have heard from some that things are not all rosy ...
schools are struggling to provide the extra support."
Roberts said she had not heard the comments directly, and a proper investigation was needed.
Teach First chief executive Shaun Sutton said a four-year evaluation by the NZ Council for Educational Research had just begun. The independent organisation's first report was expected in November. Sutton said he was not aware of problems.
"The fact that all the participants are still there is probably testament to [its success]."
Overseas research had shown the scheme worked and it had the backing of Kiwi principals, without which it would be doomed.
Applications had opened for the next course, in November.
Nine Auckland and Northland schools have employed the first batch of graduates. The Herald on Sunday contacted five principals who all spoke glowingly of the recruits. Whangarei's Tikipunga High School principal, Peter Garelja, was impressed by the enthusiasm of the two women he had hired.
A 25-year teaching veteran colleague had told him he had "never been so refreshed" by his role mentoring one of them.
'I don't have doubts'
Teach First graduate Matthew Dadley remembers well his first day as a teacher.
He had passed his teacher training course just a few weeks earlier, training that began mere weeks before that.
Standing in front of a class of teenagers at Mangere College for his first English lesson
, his heart was pumping. "You just want to make a good impression on the first day," the 30-year-old said.
Dadley, who has a Bachelor of Arts with first-class honours in political studies and Japanese, as well as a graduate diploma in English, had long wanted to be a teacher. He taught English in Japan and had volunteered at a school in India while travelling.
Three months into his new career, Dadley admits: "It has been an up-and-down journey coming to terms with the reality of a classroom and developing your own responses to challenges. But the high is when you see a student getting enthusiastic."
The Teach First course was developed with the University of Auckland.
"Yes it's challenging and you're being thrown in the deep end a little bit but I don't have any doubts about my ability to succeed."