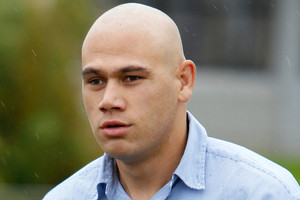 Former Blues player Kurtis Haiu has again appeared in court, this time for allegedly damaging a vehicle.
He appeared in Auckland District Court yesterday morning on a charge of intentionally damaging a vehicle that belonged to Acrow Ltd on May 9.
No plea was entered and he was remanded at large to reappear later this month.
Haiu's lawyer Richard Earwaker declined to comment yesterday.
Haiu was diagnosed with bone cancer in 2011 and forced to stop playing rugby.
In September last year a drink-driving charge was dismissed after police offered no evidence.
In August 2011, Haiu was discharged without conviction after pleading guilty to assaulting property developer Glenn Cooper.
Mr Earwaker said at the time that Haiu had lost $400,000 to $500,000 to Cooper after investing in unsuccessful property deals.
Cooper has since pleaded guilty to dishonesty charges laid by the Serious Fraud Office.
Haiu played 72 games for Auckland and 53 games for the Blues but has been on indefinite leave from rugby after being diagnosed with Ewings sarcoma, an unusual tumour, on a rib.
- APNZ