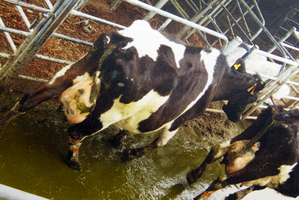 A Taupo dairy company's guilty plea of failing to provide sufficient food for hundreds of cows sends a "strong deterrent message'', Federated Farmers says.
At the Rotorua District Court today, Southland-based sharemilking company Milkpride admitted a representative charge of failing to provide proper and sufficient food to 392 cows.
The Crown dropped more than 600 animal cruelty charges against the company in charge of the dairy farm.
Charges against the company's directors Ross Cottier and Murray Flett, general manager Craig Coote and farm manager Raymond Griffin were also withdrawn.
The Ministry for Primary Industries originally brought 625 charges against the company and the men of ill-treating and failing to meet the needs of more than 1000 cows at the Taharua Farm near Taupo, after an inspection in October 2009.
Of those, 392 cows were categorised by inspectors as being in urgent need of attention. MilkPride's guilty plea relates to this group of animals.
Federated Farmers Dairy chairman Willy Leferink said the actions by the company were not representative of dairy farming.
New Zealand had strong laws on animal welfare, he said.
"We don't pay lip service to it and it is central to good farm management.
"This was also reinforced yesterday by the Animal Welfare Amendment Bill being introduced into Parliament.''
The guilty plea to the representative charge will save the taxpayer the expense of a longer trial, Mr Leferink said.
"A happy cow is a good producer so maltreating them not only destroys value, it hits production.
"That's why farmers know that good animal welfare is good for business, just as bad animal welfare is self-destructive,'' Mr Leferink said.
MilkPride will be sentenced later this month.
For more articles from this region, go to Rotorua Daily Post