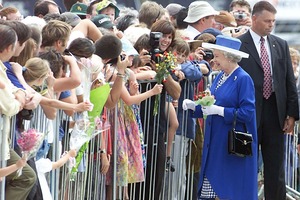 The Queen looks unlikely to make a trip to New Zealand again after confirming she will not be attending this year's Commonwealth heads of government meeting in Sri Lanka.
The 87-year-old has attended every Commonwealth summit since 1973, but Buckingham Palace said she was cutting back on the number of long-haul trips she takes.
The Prince of Wales will attend the summit in November in her place.
The Queen last visited New Zealand in 2002, her 10th visit here.
It has been an open secret in royal circles for several months that she is not expected to make any more visits to the most far-flung corners of the Commonwealth, such as Australia and New Zealand.
Courtiers insisted that the Queen's diary was as busy as ever and played down any suggestion that her health had played a part in the decision.
Despite her hospital stay earlier this year, when she was treated for gastroenteritis, she remains in good health and went riding at Windsor on Friday.
Buckingham Palace dismissed any suggestion that the Queen's absence had anything to do with controversy over the summit because of human rights abuses in Sri Lanka.
Stephen Harper, the Canadian Prime Minister, has said he will boycott the meeting and has demanded an inquiry into claims that 40,000 people were killed by Sri Lankan troops in 2009.
A spokesman said the decision not to attend was part of a review of the amount of long-haul travel undertaken by the monarch and the Duke of Edinburgh, who will be 92 next month.
Apart from highlighting the Queen's age, the decision has also been seen as a symbolic moment in Prince Charles' preparation for kingship.
- staff reporter, agencies