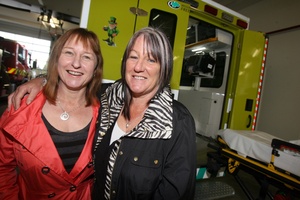 One of New Zealand's biggest Lotto-winning families has generously donated a second ambulance on behalf of their late mother's Leprechaun Trust.
The ambulance, named Leprechaun, was blessed by Father Julian Wagg yesterday in the Masterton Ambulance Station.
The ambulance has two leprechauns painted on the back and is in memory of Margaret Heaney who died in 2010.
Her daughter, Siobhan Logan, said she wished her mother could be there to see the donation.
"She would just be over the moon - it's another one of her dreams. She's done the Shamrock and she's always wanted the one with the leprechaun," Mrs Logan said.
"She's the sort of person that likes to do things to help others, it's a shame she wasn't here today to see it but I'm sure she's looking down."
Mrs Logan said the two ambulances will be a constant reminder of her parents.
"When the ambulances go past me I'm always looking to see whether it's got the shamrock so I'll probably be doing the same with this one now," she said.
After winning $36.9 million with a Big Wednesday ticket in 2009, the family donated the first ambulance, called the Shamrock, which has two shamrocks painted on the back.
Daughter Fiona Wilton said purchasing another ambulance for Wellington Free Ambulance (WFA) was a way of keeping her mother's trust "alive".
Life patron of Wellington Free Ambulance Shirley Martin has been involved with the organisation for about 60 years.
"It's like a dream come true to me to think that a family could do this," Mrs Martin said.
"I think it's a most generous gift and something they can be extremely proud of."
WFA chief executive Diana Crossan said the ambulance was worth about $250,000.
For more articles from this region, go to Wairarapa Times-Age