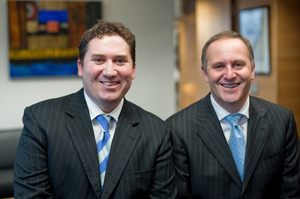 The upset mother of troubled National MP Aaron Gilmore has defended her son, saying allegations that he is a bully are "disgusting".
Kay Gilmore spoke in support of the oldest of her three sons after he came under fire for abusing a waiter at a Hanmer Springs hotel restaurant and allegedly threatening to use the Prime Minister's office to get the waiter sacked.
She said the way Mr Gilmore had been hounded and called a bully in the past week was "disgusting". She added: "We support our son."
Mr Gilmore will appear at a press conference this morning to answer questions for the first time since reports of his misbehaviour surfaced last week.
Prime Minister John Key also spoke in support of the backbench MP yesterday.
Asked what Mr Gilmore's strengths were, he said that the Christchurch MP had been helpful to residents affected by the earthquakes in the region.
"He's quite a bright guy underneath all this ... he has some commercial understandings ... He's also got some faults, and they were on display when he undertook that activity that night."
Mr Key said he had received an apology from the backbench MP via text message.
He had not demanded that Mr Gilmore appear at Parliament today, but he expected him to be there because he was "a paid member of Parliament who had a job to do".
He was confident that Mr Gilmore had not tried to use the Prime Minister's office to get the waiter sacked, despite Christchurch lawyer Andrew Riches releasing a written statement which indicated he had threatened that.
Mr Key said his office would take no further action unless a formal complaint was laid. The Hanmer Springs Heritage hotel - where the incident occurred last week - said it would not lodge a complaint.
"We've done everything we practically can," Mr Key said. "There becomes a limit ... My office isn't a police force."
Mr Gilmore has previously come under scrutiny for providing false information on his CV, and further allegations of bullying behaviour have been reported in the past week.
The Herald sought the views of Mr Gilmore's former colleagues yesterday. Most of his ex-workmates said he was highly capable, but felt he also had an arrogant streak.
One former workmate, who did not want to be named, said he left a $10,000-a-month job because he could not bear to work with Mr Gilmore.
"I wanted to kick him in the guts. I don't like the guy."
Another said that he was relieved when Mr Gilmore left the workplace because of his "forceful attitude".
The same former workmate said he had the impression Gilmore was very "self-possessed and 'I'm going to great heights in political circles' and we just rolled our eyes at that."
Mr Gilmore said he would give a press conference this morning.