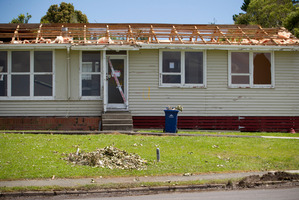 The tornado which ripped through Hobsonville and Whenuapai in Auckland last December cost the insurance industry $8.7 million, the Insurance Council of New Zealand says.
The tornado killed three construction workers and caused widespread damage to homes and infrastructure when it hit in Auckland's northwest.
The Insurance Council of New Zealand said today the final insurance cost to its members was $8.7 million - an increase of about $2 million on the original estimate made shortly after the tornado.
The bulk of the insurance claims were for house and contents ($6.1 million), commercial claims ($1.9 million) and motor vehicles ($410,000).
Construction workers Tom Stowers, Keith Langford, and Brendon Johnson were killed when a concrete slab came down at a construction site during the tornado on December 6. It also left 250 people homeless and cut power to thousands of properties.
- APNZ