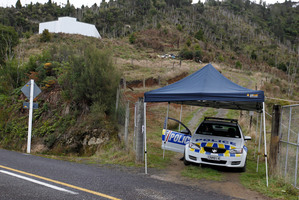 Quinton Winders is still living on the property at the centre of police inquiries into George Taiaroa's death, a neighbour says.
Quinton Paul Winders owns the property near the Pohukura Saddle in Taranaki that has twice been searched by police investigating the road worker's death.
Police have declined to name their main suspect but say they know where the man is and he had an "appalling and misguided" motive for the shooting.
They are appealing for anyone who might be protecting him to come forward with information.
Taiaroa was fatally shot while operating a stop-go sign at a one-lane bridge near Atiamuri, in South Waikato, on March 19.
Winders' neighbour Ed Bradford said Winders had worked for him for 18 months. "He helps me with my fences and still has work outstanding. The kids have seen him on his farm in the last week or so. He is still doing his normal routine."
He said Winders drove a blue Jeep Cherokee, the same model as a vehicle seen driving erratically from the murder scene. Police recovered the vehicle last month at a rural property in Mamaku near Rotorua.
Bradford said Winders lived in a converted barn on the 240ha deer farm.