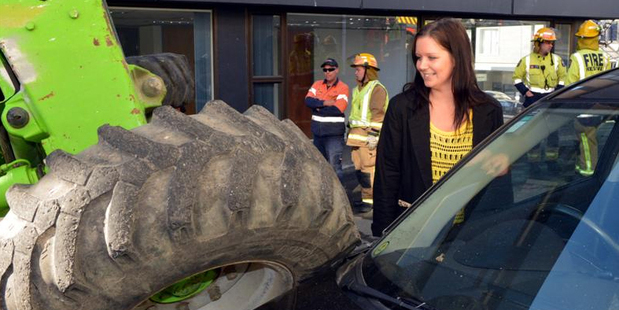 It is the love of Anna McLean's life, but her Mazda Axela is a "magnet" for trouble.
Anna parked the car in the driveway at her workplace at 8.30am yesterday, and three hours later she was asked to move it by contractors working on the temporary courthouse, in High St, Dunedin.
What was the reason for the move?
"So their crane wouldn't hit my car,'' she said.
Minutes later the administration and payroll office worker heard a loud crash while working in the next-door building. She looked out and saw a telehandler - a telescopic forklift - had rolled over and was pinned against her car.
"I just yelled at the top of my lungs 'oh my God'."
Fortunately, the crane driver appeared to have been thrown from the cab. He was lying down with glass cuts to his leg and was taken to Dunedin Hospital as a precaution.
The driver suffered minor injuries and was later discharged after his lucky escape, Amalgamated Builders Ltd Dunedin manager Richard Johnston said.
"He is a wee bit sore after being thrown around in the cab."
Miss McLean was surprisingly upbeat about having to fill her fifth, and most bizarre, insurance claim for the New Zealand-new car she bought 18 months ago.
"My Mazda Axela is the love of my life. But it is a magnet ... it keeps getting hit when I am not in it."
The car had been involved in a hit and run, and a panelbeater had crashed it, but "this is the worst, definitely".
"Normally it just gets backed into rather than a crane roll over the top."
She doubted she would have been injured if she was inside the car at the time the crane toppled.
"I wouldn't have been - just my heart."
The Ministry of Business, Innovation and Employment is investigating the incident.