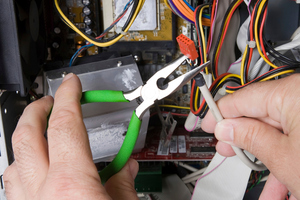 The mother of an Auckland builder who was electrocuted under his house says her son has been vindicated by a finding against the electricians whose faulty wiring turned the property into a death trap.
Margaret Pengelly was horrified by comments at the time of Trenton Page's death which suggested he had been carrying out DIY electrical repairs at his house in Avondale - something she says he would never do.
Now, three years after his death in April 2010, the Electrical Workers Registration Board has found electrician Brett Woodley McGehan and electrical inspector Harry Martin Gedye guilty of negligence in relation to the death.
The board suspended the men from practising, ordered them to pay $10,000 each in costs and fined them $7,000 and $6,000 respectively.
Mr Page, 42, died just five days after Gedye had signed off on McGehan's electrical work on the extensively renovated home.
His partner, Megan Thompson, heard him screaming after he went under the house to see why the hot water cylinder had stopped working.
Ms Pengelly said the board's finding against the electricians was vindication after three years of people blaming her son for his own death.
"He didn't touch anything - he got an electric shock ... off the hot water cylinder. The whole house had been electrified for four, five days.
"It could have caught on fire - anyone could have been killed.
"The whole thing has been an absolute debacle because Trenton was the most careful person as far as electricity and work he didn't know."
Ms Pengelly took particular issue with the comments of Electrical Safety Organisation president Michael Chopping, who told media at the time: "Whatever he was doing was wrong and he sadly paid the ultimate price."
She has written to Mr Chopping to ask for an apology, but he has never replied. "He stood in front of national TV and told the world that this is what happens when you do a job you know nothing about. So you can imagine what we've had to live with ... it's been absolutely horrendous."
The board heard that while McGehan was installing a new main cable, he transposed the phase and neutral conductors, which caused the earthing system of the house to become live.
Both he and Gedye failed to check the work was carried out properly.
Gedye's licence will remain suspended until he completes a board-imposed remedial training course, while McGehan's licence was reinstated after he completed an approved training course. The case has been referred to the coroner.
- APNZ