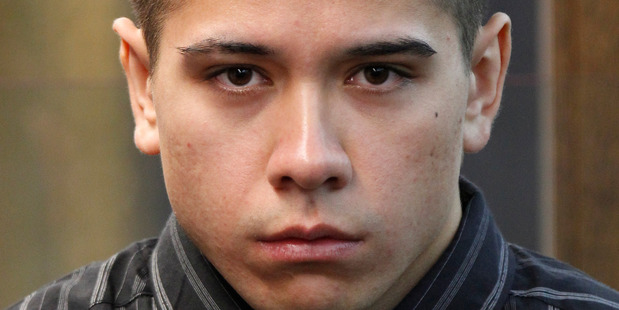 A young killer who stabbed a Lower Hutt father of two has this morning been sentenced to life imprisonment, and must serve a minimum of 10 years.
Shayd Robinson, 21, was this week found guilty in the High Court at Wellington of murdering 27-year-old Stokes Valley man Aaron Hadfield.
The gallery was packed with friends and family of Mr Hadfield today, including his partner and parents.
During sentencing, Robinson stood silently with his head bowed.
Justice Forrie Miller said Robinson was about to spend what should have been the best decade of his life behind bars.
The Crown alleged Robinson stabbed Hadfield in the chest through the window of the victim's car after an altercation over his driving on January 26 last year.
Mr Hadfield had been returning home from picking up prescription medicine for one of his young children.
Robinson's defence lawyer, Mike Antunovic, said he acted in self-defence.
The jury last week was told that Robinson had wiped a knife across his mouth and called out something like "your blood tastes sweet" to his victim.
Justice Miller said he could not ignore such "dramatic" comments.
But he noted that Robinson was brought up in a violent household where both parents abused drugs and alcohol.
He said it was credit to Robinson he had stayed out of trouble during his life and had it not been for this incident, the young man was on the way to making something of himself.
Normally sentencing for crimes is delayed longer after a verdict was given in order for pre-sentence reports and submissions from counsel. But Justice Miller said this was not necessary for the crime committed.
He imposed the minimum sentence he was legally able to, which was life imprisonment with a minimum non-parole period of 10 years.
Robinson's conviction and sentencing comes after an earlier trial was aborted in November last year when one of the jurors revealed they knew information about the case.
It can now also be revealed that the man who sparked the attack that ended with Mr Hadfield's death was sentenced to four months' home detention.
William Axl Stark, 23, punched Mr Hadfield through a car window and kicked his car door just moments before Robinson stabbed him. He then fled without offering any help as Mr Hadfield bled to death.
Details of Stark's offending were suppressed until the jury in the Robinson trial returned their verdict.
Stark instigated the fatal confrontation with a volley of abuse after he and Robinson were almost run over by Mr Hadfield's car as they stepped onto an intersection in the Lower Hutt suburb.
A heated exchange followed when Mr Hadfield reversed his car, lowered his window and gestured aggressively at the men.
Stark punched Mr Hadfield several times through the car window and kicked and kneed the car door.
Robinson joined in before stabbing Mr Hadfield in the chest.
At sentencing last year, Justice Ronald Young said he must sentence Stark for assault rather than Mr Hadfield's death.
"But of course part of what happened here was that this man died, and the effect on his family has been understandably catastrophic."
- APNZ