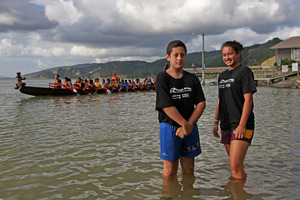 Maori leaders of the future learned a variety of waka tangata skills yesterday.
The waka training, held at Port Waikato, was part of a three-day wananga supported by ActivePost and Sport New Zealand's He Oranga Poutama programme.
The camp - held at Oraeroa Marae - involved 32 secondary school students selected from Wharekura (full immersion Maori schools) throughout the Auckland region.
The students, who have been identified by their teachers as potential leaders, are taking part in leadership tasks and workshops involving aquatic activity (mostly conducted in te reo Maori) to explore the unique relationship Maori have with the water, while at the same time addressing the high number of Maori drownings nationally.
"It's about using what these kids already know from their Maori school settings and connecting that unique world view and knowledge with the water," says programme co-ordinator Wiremu Mato.
"We've created fun, new aquatic opportunities for them to have a go at."
Student Piripi Houia, 15, of the Te Kura Kaupapa Maori O Hoani Waititi Marae, said the activities had been "great fun" and helped him learn to "think faster".
"I've been on waka ama before but never done waka tangata. We've had an awesome time."
The wananga is part of the Kia Maanu, Kia Ora initiative - a partnership between ActivePost (New Zealand Post's health and wellbeing initiative) and Water Safety New Zealand.