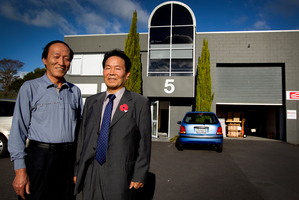 Korean Aucklanders are hoping that their new $1.5 million community centre will help to keep their culture alive in New Zealand.
The facility in Hillcrest on the North Shore will be formally opened tomorrow.
It aims to be the focal point for the local community and a venue where Korean culture and heritage will be shared and promoted.
Centre director Stanley Park said Auckland's 25,000 Koreans had until now had no place to call their own.
A 2010 Massey University study entitled "Kimchi Networks" by sociologists Carina Meares, Paul Spoonley and Robin Peace found many Koreans, including non-Christians, went to church to network for business and to find information and support.
"That study made us realise how important it is to get a place where non-Christians and Christians alike can come and be comfortable," Mr Park said.
The community had been fundraising since 2008 for three major projects - including a Korean garden at Barrys Pt Reserve in Takapuna and a Korean school - but identified the centre as the "most important".
"We put all our energy and resources towards getting this centre, and this Saturday our dream will become a reality," said Mr Park.
The money raised to buy the 1452sq m property at 5 Argus Place came from fundraising efforts by local Korean community leaders.
Centre chairman Henry Lee said the centre would house a multi-purpose community hall and about a dozen businesses serving the Korean community, including an immigration adviser, travel agency and education agents.
Mr Lee said the hall would be used for talks and workshops to raise awareness about the Korean culture, and might be leased to a Korean church for Sunday services.
"This will be a one-stop shop not just for the Korean community, but anyone who is interested to learn about Koreans."
Koreans, in percentage terms, were the fastest growing migrant group between 1986 and 1996, rising from 400 to 12,653. In the 2006 Census, Koreans numbered 30,792. An estimated 25,000 live in Auckland, mostly on the North Shore.