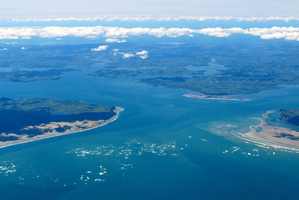 Three young children swept into the Kaipara Harbour have been retrieved safely by family, shortly after a search was started by police.
The children - aged eight, nine and 12 - were playing in a dinghy in a creek when they were washed into an area called Hargreaves Basin late this afternoon.
A night search was launched by Northland Police and the Northland Emergency Services Trust helicopter was deployed about 6.30pm.
Inspector Peter Raymes said before police arrived the children made their way back to shore and were helped by their family.
"It was going to be a long protracted operation but the children made their own way back to shore and were uplifted by their family prior to any police or Search and Rescue intervention.''