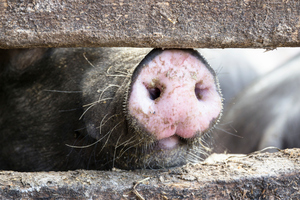 A Canterbury lifestyle block owner is facing animal welfare charges after allegedly beating four pigs with an iron bar.
The 49-year-old has already been charged with obstructing SPCA inspectors who visited his West Eyreton property on April 2 to investigate complaints of "serious physical abuse'" of his animals.
Police said he refused to comply with the inspectors' requests and allegedly abused and threatened them.
He then left the property with the pigs in a trailer and was stopped by police on the north bank of the Waimakariri River where he was allegedly found to have bullets and a knife.
He was arrested without incident and charged with wilfully hindering animal welfare inspector Geoff Sutton, refusing him access to inspect his animals and possessing .22 ammunition without lawful, proper, or sufficient purpose, and a knife without lawful authority or reasonable excuse and animal welfare offences.
Mr Sutton, the Canterbury SPCA animal inspectorate manager, said it was alleged the man "beat the four pigs with an iron bar when they wouldn't do what he wanted and get into his trailer".
He said the crossbred pigs had been slaughtered and a forensic examination completed.
The man has now been charged under the Animal Welfare Act with two counts of ill-treating an animal by hitting the pigs in a manner that caused pain and distress in circumstances that were unreasonable and unnecessary.
He is due back in court next month.