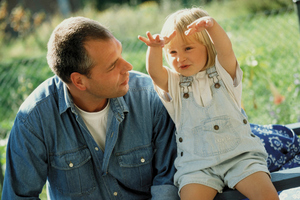 An online poll has shed light on the imaginations of children and revealed their sometimes strange, grim and downright creepy turns of phrase.
Social media site Reddit asked American parents to share the "creepiest" things their children have said to them and close to 11,000 people responded.
Message boards and online forums filled with the discussion yesterday, and media outlets including The Telegraph, Metro, news.com.au, and Irish Independent reported the story.
Standout posts included:
• A little girl saying to her father: "Daddy, I love you so much that I want to cut your head off and carry it around so I can see your face whenever I want."
• Someone being woken at 6am by their 4-year-old daughter's face inches from theirs: "She looked right into my eyes and whispered, 'I want to peel all your skin off'."
• When asked "what's the best way to get a girlfriend?" a 7-year-old responded: "Tell her to be my girlfriend or she'll never see her parents again."
• Holding her newborn brother for the first time, a 3-year-old asked: "So I shouldn't throw him in the fire?"
The Herald asked readers to share their own creepy kid experiences.
Maggie Young-Scelly said her 5-year-old daughter told her: "I love swimming, I like floating in the water, it makes me feel all safe and warm like when I was in your tummy, Mum."
Tracey Keye's 4-year-old son told her: "When I was a girl I fell off a cliff and hurt my chest and that's how I died".
When Bronia Simpson was driving past the cemetery her father was buried at, her 3-year-old son asked: "How good was Grandpa Brian at playing the accordion?"
Mrs Simpson wondered: "Accordion? No one had ever said that damn word to him, and certainly he never knew my Dad played one."
* Has your child said something creepy? Post their comments below.