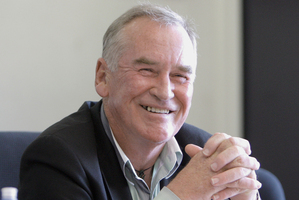 Taupo's mayor says his community was horrified and disgusted when Menzies Hallett walked free after he was first charged withthe murder of Rodney Tahu in1979.
And with many personal ties to the case, Rick Cooper was among those most satisfied to see Hallett finally found guilty in the High Court at Rotorua yesterday.
It was a strange coincidence that Mr Cooper had sold Mr Tahu the 1971 Holden Monaro he was about to drive home from work on August 16, 1979, and later bought the Ford Falcon 500 that Hallett pulled up in before he shot Mr Tahu dead.
Mr Cooper's wife, Lynne, was also working as a theatre nurse at Taupo Hospital at the time and treated self-inflicted shotgun wounds Hallett received during his dramatic arrest just over 24 hours after the murder.
Mr Cooper said Mr Tahu's murder - and Hallett's discharge for lack of admissible evidence - had been a topic of conversation among Taupo residents for more than 30 years.
"They were absolutely horrified ... We were disgusted at that time that the law was an ass," the mayor told the Herald.
A car dealer, Mr Cooper sold Mr Tahu his 1971 350 Bathurst Holden Monaro. The collector's piece now belongs to a friend.
He described Mr Tahu as a "lovely young guy".
"And Rodney Tahu was gunned down in cold blood by a guy who put his own personal circumstances ... before the life of a man who was working to support his family.
"He is luckier than whoever wins Lotto - he has had 30-odd years of freedom and the best years of his life ... and he should count his lucky stars."